A Transfer on Death Deed (TODD) can effectively remove your real property (homestead, primary residence, rental property, beach house) from your Probatable Estate and prevent the need to probate your Will OR ADMINISTER YOUR ESTATE. Real Property transfer is the most common reason people have to probate a will or administer an estate.
A TODD effectively creates a beneficiary for your real property and automatically transfers a property to your Beneficiary at the time of your death.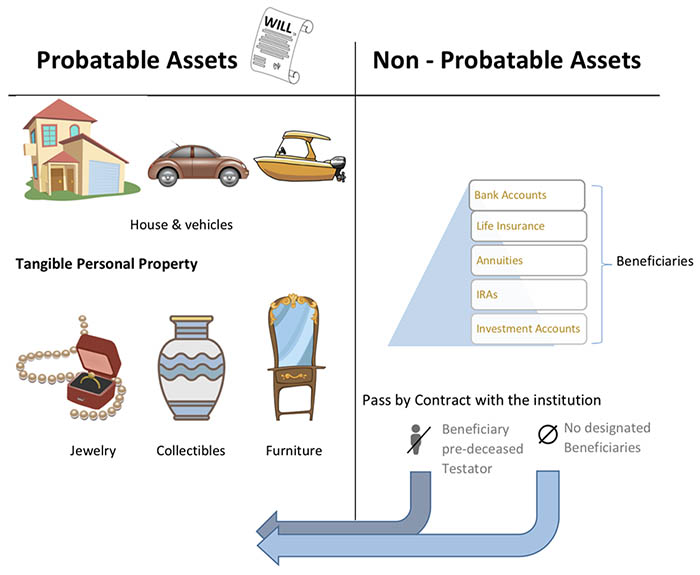 AS YOU CAN SEE FROM THE CHART ABOVE, ALL ASSETS THAT HAVE A NAMED BENEFICIARY DO NOT NORMALLY REQUIRE AN ADMINISTRATION OF THE DECEASED PERSON'S ESTATE. IT IS A GOOD IDEA TO CHECK WITH YOUR BANK, ANNUITY COMPANY, LIFE INSURANCE COMPANY OR OTHER DEPOSITARY INSTITUTION THAT HOLDS YOUR ASSETS TO INSURE THAT YOU BENEFICIARIES ARE CORRECTLY NAMED. IF THERE IS NO BENEFICIARY NAMED, OR THE NAMED BENEFICIARY IS DECEASED, YOU CAN ALSO BE FORCED TO ADMINISTER THE ESTATE IN PROBATE COURT. HINT: MANY OF THESE INSTITUTIONS CALL THIS A "POD", OR PAY ON DEATH BENEFICIARY. IN TEXAS THE LEGAL TERM IS "RIGHT OF SURVIVORSHIP". THESE BENEFICIARY DESIGNATIONS SHOULD ALSO BE CHECKED WHEN YOU HAVE SIGNIFICANT CHANGES IN YOUR LIFE SITUATIONS, SUCH AS DEATHS, DIVORCES, BIRTHS AND CHANGES IN COMPETENCY THROUGH AGE OR INCAPACITY.
Call us so we can HELP YOU simplify your Estate AND save you money. REMEMBER THAT THE COST OF OUR ESTATE PLANNING PACKAGE CAN SAVE YOU MANY TIMES THAT AMOUNT IN THE ADMINISTRATION OF YOUR ESTATE, AND CAN OFTEN PREVENT THE NEED TO "PROBATE" AND ESTATE ENTIRELY. CRAIG